Our People
The Spa World team are a passionate bunch. With years of experience in the spa industry between them, together they make up a crew of experts who are passionate about sharing the health and wellbeing benefits of spas and swim spas.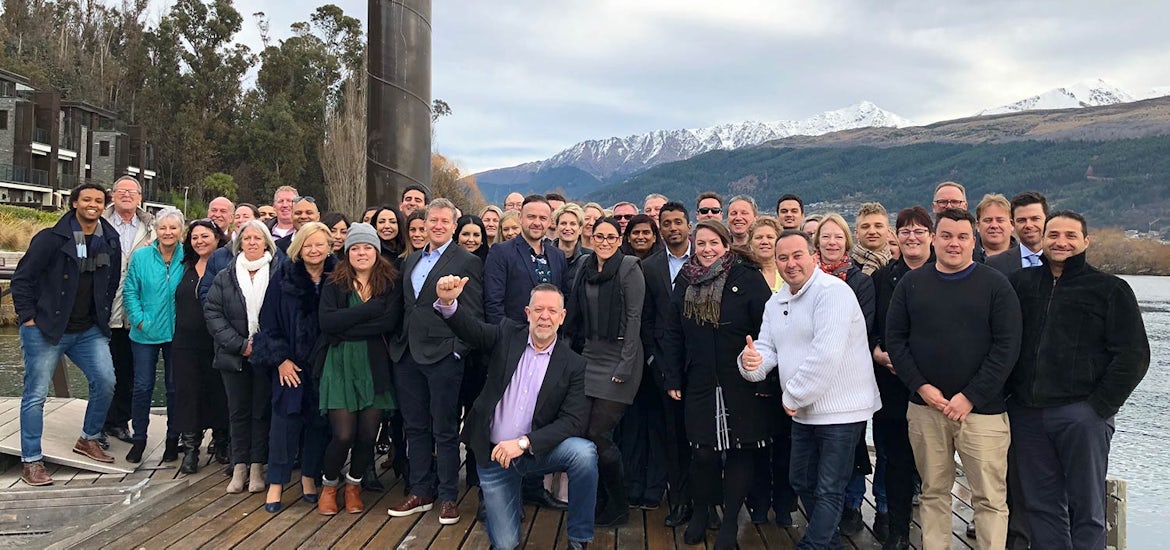 Director - Product Development
Adam first joined the company in 2003 and has been involved across most areas of the business since then. Adam's focus now is on continuous improvement and evolution of the product range.

Customer Experience Manager
'People, passion, and performance' is Amanda's career mantra. She has 20+ years of customer care experience and loves working with companies that prioritise their team and customers. As a mum of 2 teenagers, she finds her spa the best place to connect as a family.

Presenter
Amy is an experienced presenter with a background in marketing, communications, and business. She is a creative thinker who enjoys working with like-minded people to achieve innovative outcomes. A lifelong musician, she can also be found serenading her piano, cat, or anyone who will listen.

Customer Care Consultant
Ana has been in the customer service industry for several years. She's currently handling customer queries for Spa Store. Outside of work, she enjoys watching movies and traveling.

Chief Executive Officer
Andrew brings 20 years' experience in the spa industry to the CEO role as well as a board member for Spa World and Vortex Spas New Zealand.

Customer Care Consultant
Angela has been with Spa World for 10 years. When she is not helping customers, you can find her reading and taking care of her garden.

Customer Care Consultant
Angelo joined the Spa World family in 2014 and is currently handling cover orders along with other tasks.

Customer Care Consultant
Aris has been in the customer care industry for years learning and helping others. During his time off, he can be found either on his gaming chair playing with buddies online or on wheels traveling with his family.

Field Technician
Brendan has 8 years of pool tech experience and he is keen on using his skills for spa pools. He lives for the outdoors, as evident in his decade of 4-wheel driving. He would love to tour Australia one day.

Sales Consultant
Britney brings her extensive hospitality management experience and passion for genuine customer service to ensure Spa World clients find their perfect new addition. She loves the outdoors and spending time with her family.

IT Support Team Leader
Caleb finds working with data an exciting journey of discovery, insights, and impact to better planning and innovation. You will find him at the park playing basketball when he's not on his computer.

Publisher | Marketing Assistant
Catherine worked as a computer programmer before shifting to social media and online marketing. Road trips and picnics with her family are her favorite weekend activities, and reading a good book is her quiet retreat.

Customer Care Consultant
Customer service is Charm's forte since being in this industry for 16 years and running! She used to work as a trainer for business ethics for professionals, so professionalism is highly regarded for her. She is a music lover and likes playing the drums.
Procurement Specialist
Charne has 12 years of procurement experience and has recently moved from South Africa with her family. She loves spending time with her kids in the great outdoors.

Customer Care Consultant
Ciara is our Irish Leprechaun who has been living in New Zealand for six years. She has 12 years of customer service and administration experience. Outside of work, she enjoys hanging out with her family.

Content Creator
Chloe has a background in creative communications. When she's not creating, she's doing DIY projects, exploring the local hospitality or out in nature.

Assistant Accountant
Chloe is from the Isle of Man and has a strong auditing and accounting background from her previous role with one of the 'Big four". When Chloe's not in the office, you'll find her racing down a mountain bike trail.

Chief Financial Officer
Craig joined the company in Feb 2017 coming from a corporate finance and general management background. When he's not counting the beans (or spas), he's trying to catch fish.

Graphic Designer
Cristina is an artist and graphic designer. Originally from Colombia, she's now firmly established in New Zealand with her husband and two children. In her spare time, Cristina enjoys family time, and working on community art projects.

Business Development Manager
Dale has been in the spa industry for over 15 years and works closely with our Spa World sales team and wholesale customers. He has a passion for helping people grow their skill sets and reach their full potential.

Christchurch Area Manager
Hamish has matched thousands of families to the perfect spa pool. When not not helping customers, you will find him out on his mountain bike or motorcycle.

Customer Care Consultant
Heart has a lot of years of contact center experience. Her ambition is to deliver the ultimate customer service experience whether on the phones or performing the support role. She enjoys playing with her dog when not binging on Youtube videos.

Management Accountant
Irene was a Tax Consultant and a part-time teacher for children with special needs before she joined Spa World. Her favorite pastimes are playing with her grandchildren or her pets and caring for her garden.

Warehouse Specialist
Jack is guru in all thing's to do with warehousing.

Administrative Support
Jade is currently handling administrative tasks and also helps in customer service. In her free time, she likes doing needlework and travelling.

Retail Manager
Janina has been in retail management for 14+ years. She enjoys meeting new people and shares her customer's happiness whenever a purchase is made. Outside of work, she loves spending time with family and friends.

Sales Associate
Jamie was born and raised in Canterbury. He is passionate about helping customers, film making, basketball and staying fit.

Accounts Receivable
Jane moved here from the UK in January 2016 and spent a year' relaxing'. She joined Spa World in January 2017 and is very much enjoying her role.
LMS Specialist
Jayson has been in training development for over 15 years. He's into technology along with high fantasy books and games.

Content Creator
Jen has been in the customer service industry for years before she started as a content creator. She enjoys cooking and hanging out with her family when not at work.
Customer Care Consultant
Joanna enjoys helping customers and has been in the customer service industry for years. When not helping customers she spends her time at the beach and travelling.

Retail Manager
Katrina brings 20 years of experience in the customer service and design industry. When she's not helping her clients find the right spa or swim spa, you will find her enjoying time with family and exploring beautiful beaches, lakes, and rivers.

General Manager - Operations
Kerian brings 30 years of international business and sector operations experience. He enjoys getting out to explore Nelson's natural beauty with his wife and dog Huey. Cooking is one of his passions and you can frequently find him in the kitchen.

Head Of Global Marketing
Kenneth (J) is from North America and joined Spa World in 2013. He is passionate about making a positive impact, everything online and tech.

Customer Care Consultant
Kyra has years of call centre experience in the US and is obsessed with providing the best customer experience. She enjoys travelling and exploring the outdoors.

Logistic Specialist
Leah previously worked in Aviation Operations for 17 years. She is passionate about customer service and enjoys spending time with her family and friends.

Field Service Coordinator
Livi has studied reception and office support as well as having experience in customer service. In her spare time she enjoy socialising with friends and enjoying the beautiful outdoors.

Field Service Manager
Lydia has a degree in Accounting and Management. She worked in the real estate industry for 5 years. Outside of work, she enjoys fishing with her family and being outdoors.

Project Accountant
Lynne is originally from Canada and comes from a corporate background. When Covid allows, she's traveling the globe.

Systems Accountant
Mackenzie comes from an SME Chartered Accounting role. When he's not diving head-first into an Excel spreadsheet, he's either outside playing sports or inside playing video games.

Content Marketing Manager
Mariam is an experienced marketing and communications manager. She's constantly improving and developing the way we market our fantastic products and educate consumers. Mariam is passionate about fitness and wellbeing and loves empowering and supporting people to perform at their best.

Videographer
With over 9 years experience creating and telling visual stories, Matt joins the Spa World family as our Videographer. When Matt isn't operating the camera you'll find him down at the beach for a spot of kitesurfing.

Supply Chain Manager
Meg brings 25 years of experience in shipping, logistics, and inventory control. She manages hundreds of container movements every year. She's passionate about early morning beach swims, paddle boarding, and spending time with family.

Delivery Manager
Megan is passionate about providing 5-star service. In her spare time, she participates in several water sports, but her favourite is sailing.

Customer Care Consultant
Mel has been in customer service and warehousing for 20 years. She answers queries for Spastore, as well as hanging out with her husband and kids.

Territory Manager Auckland
Michael has 20 plus years of sales & client management experience as well as vast real estate knowledge, he knows how to add value to your property with the right Spa Pool.

Support Centre Coordinator
With 10 years of experience in training and management, Miguel makes sure that the different departments in the Support Centre work efficiently. Outside of work, Miguel can be found on the beach or hiking in the mountains.

IT Support Analyst
Nicholas is a creative soul who is drawn to the technical and artsy parts of life. He is passionate about saving the environment!

Financial Controller
Nicola worked in the legal sector before joining Spa World. She enjoys spending time with her young family and likes to stay fit to keep up with her twins.

Sales Associate
Peter lived in Asia for 15 years and has many years of sales and management experience. He loves helping customers find their perfect spa. Outside of work he enjoys spending time with his family and practicing Judo.

Inventory Administrator
Phil has over 15 years of customer service experience. Outside of work, he enjoys cooking, playing board games, and riding his Onewheel.

Business Development Executive
Rachel has been with Spa World since 2017 and has loved every minute. She gets immense satisfaction knowing our customers are improving their health and wellbeing with the products Spa World has to offer.

General Finance Support
Rechelle has 10+ years of accounting experience in multinational companies in the Philippines and the middle east before deciding to move to New Zealand. During her free time, she loves to travel, try different cuisines, and spend time with family and friends.

Customer Care Specialist
Rachel has been in the spa industry since 2003 and loves being a mum and helping make sure that things get to the right place at the right time.

Customer Care Consultant
Rae has been in the customer service industry for 16 years. She aims to always provide the best customer experience. Rae is passionate about cooking and enjoys going to the beach to snorkle.

Delivery specialist
Rebecca brings her exceptional customer services skills and administrative background to Spa World customers. When not helping to deliver items, Rebecca enjoys being a member of a Brazilian percussion band and plays the Surdo, Tams and Chocalho.

Warranty Manager
Regan's passionate about customer spa issues. Outside of work, he enjoys music record collecting and Nelson's water sports.

Delivery Administrative Assistant
Rhea is a licensed teacher and a physical therapist with a passion for cooking. The kitchen is her favorite spot and she loves to cook Mexican, Italian, and Middle Eastern dishes.
Customer Experience Specialist
Sara is working on process and training improvement within Spa World. In her spare time, she is cooking, taking photos of her animals, or enjoying a good movie.

Customer Care Consultant
As a former service supervisor for an international airline, Sharona brings her passion for helping people and making sure they receive the service and care they deserve to her role at Spa World.

ICT Manager
Tim and the IT team support their Spa World colleagues with anything tech-related, ensuring that our many digital platforms and tools are used to support our customers, partners, and suppliers effectively. Tim's second job is as a dad to three children, who keep him very busy outside work!

Head of Compliance
Tony has been in the spa and pool industry for more than 20 years. He brings a passion for excellence to his work as General Manager for Spa World Solutions.

Accounts Payable Administrator
Tracey is an AP wizard, and when not paying our bills, she is busy hiking, reading or playing with her dogs.
Accounts Payable Administrator
Besides being dedicated to her current administrative duties, Vianca also loves traveling to different places and taking videos. When she is at home, she enjoys spending time with her family and dogs.

Customer Care Consultant
Will has been in the customer service industry for over a decade now. Overall, wellness and making a difference in people's lives are important to her. GRATITUDE is her way of life.